Regular price
Sale price
$19.99 USD
Unit price
per
Sale
Sold out
clip-on info

-how to use: our clip-on earrings open by pulling the back. you can then close them on your ear, no piercings necessary!! they also have a screw that adjusts to be looser or tighter as needed
-comfortable: yes, unlike most clip-on earrings, ours are adjustable to be looser or tighter as needed. for added comfort, they also have rubber comfort pads!!
-nickel-free
materials

-charm material: lightweight laser-cut acrylic
-backing material (both pierced and clip on): silver (original rhodium) plated over brass (clip on backings also have silicone rubber comfort pads)
shipping info

where do you ship? 📦

-United States

-Canada

-United Kingdom

-Australia

-The European Union (Austria, Belgium, Bulgaria, Croatia, Cyprus, Czechia, Denmark, Estonia, Finland, France, Germany, Greece, Hungary, Ireland, Italy, Latvia, Lithuania, Luxembourg, Malta, Netherlands, Poland, Portugal, Romania, Slovakia, Slovenia, Spain, and Sweden)
dimensions

-charm size: 0.75 inches (2cm) tall
View full details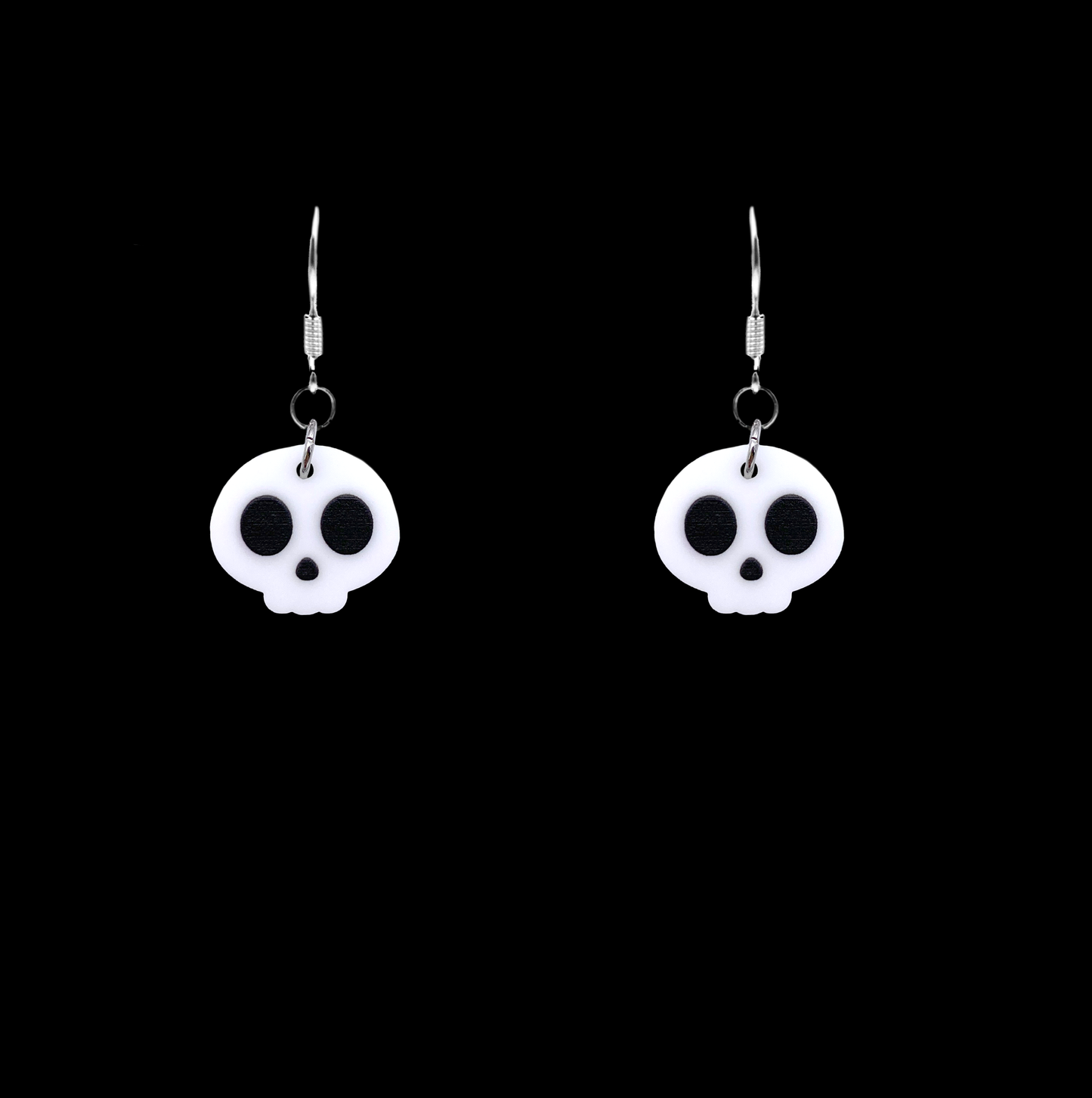 So cute
I'm absolutely obsessed with them. They make me feel like the token Goth/emo kid from a 90s movie lol
Spooky and comfortable!
I just got these earrings today and put them on as fast as I could. They are super cute and really comfy on my ears. I actually fell asleep with them on and if I was wearing my other clip ons, I would have woken up in pain but when I woke up to these, no pain! Absolutely gonna get more earrings from here when I get the chance ❤️
My favorite pair of earrings!
First off, I gotta say, these earrings are adorable, but also they are super lightweight and obviously high quality with no noticeable imperfections. The clips are super comfortable so I can wear these earrings for ages without really noticing them, which is a nice change of pace compared to other clip-ons I've tried that squeeze the life out of my earlobes. And they make cool shadows in the sun which is a huge plus👍🏼 I totally recommend these earrings!
Love These!
Just as advertised, these clip ons are super comfortable! I got my ears pierced years ago and they never healed, so I was super happy to find this shop with cute, comfy clip ons in my personal style. They also shipped and arrived quickly. I highly recommend!
Love it <3
They are super cute, I'm planning on wearing them mainly all of october and randomly throughout the year. I bought the clip ons and they are so easy to put on!
FreakyKoala306